Paris Fashion Week, the grand finale of the fashion week season. Every season brings new, unexpected drama and highlights. The Spring-Summer 2024 Paris Fashion Week was no exception, with unforeseen interruptions, stolen collections, poignant farewells, and groundbreaking catwalk experiences. From the big four (New York, London, Milan, and Paris), Paris boasts the biggest celebrity turnout. That means drama & subtle feuds. It is hard to secure restaurant reservations at the celebrity hotspots and club "snubbing" (ask Brooklyn Beckham)
Here are the highlights for Paris Spring-Summer 2024 Fashion Week
Hermès – Bryanboy Saves the Show
A PETA protester disrupted the Hermès Spring-Summer 2024 show in Paris, calling for the label to stop using exotic skins. The show continued seamlessly, thanks to Bryanboy's quick response in promptly grabbing the protest sign, ensuring the event proceeded without missing a beat. Guess who has secured front-row seats for life…
You can see how Bryanboy saved the show here.
Read the Hermes Ss24 Report here:
Photo by Alessandro Bremec/NurPhoto) Credit: NurPhoto SRL/Alamy Live News
Balmain – "It Fell Off the Truck"
A truck carrying 50 pieces for Balmain's Spring-Summer 2024 Paris Fashion Week show was stolen in a carjacking near Charles de Gaulle Airport. Nevertheless, Creative director Olivier Rousteing ensured the show proceeded as planned on September 27, and the collection was well-received despite the setback..
Watch the whole Balmain Spring – Summer 24 show.
Alexander McQueen – Bittersweet Farewells
Sarah Burton bids farewell as creative director of Alexander McQueen, ending an era that began in 2010 after the eponymous founder's tragic loss. Her journey with the brand started in the mid-1990s, making her departure bittersweet.
Watch the whole Alexander McQueen Show.
Balenciaga – a family affair
Demna showcased a provocative Balenciaga Spring-Summer 2024 collection, featuring influential people from his life as models, including his mother Ella (who opened the show) Diane Pernet, Kim Kardashian, Amanda Lepore, Cathy Horyn, and Robin Meason. The runway concluded with a stunning wedding gown, created by combining seven pre-2000 Balenciaga dresses and worn by Demna's husband, BFRND.
Watch the whole Balenciaga Show.
Undercover's Spring Summer 2024: A Terrarium Dream
Renowned Japanese fashion designer Jun Takahashi created a hauntingly enchanting ambiance with his Undercover Spring – Summer 2024 collection, aptly named 'Deep Mist,' showcased during Paris Fashion Week. The most notable pieces of the Undercover Spring – Summer 2024 collection concluded the show. Takahashi presented three resplendent dresses, each embellished with terrariums filled with roses and delicate butterflies.
Watch the whole Undercover Show.
Best Runway & Best Show: Dior – "Been There, Done That, Not Going Back"
Dior's Spring-Summer 2024 ready-to-wear show set a new standard for runway experiences. Maria Grazia Chiuri, known for her penchant for collaborating with artists to craft immersive show spaces, didn't disappoint this time either. This season, Chiuri teamed up with artist Elena Bellantoni to create a tongue-in-cheek runway with a clear, bold message: "It's not her. She's no longer all that." Guests were surrounded by video installations covering the walls using an analog split-flap device, creating a unique visual experience. The centerpiece featured reimagined female figures from pop art, challenging stereotypes from sexist advertisements with counterpoint phrases. The backdrop mixed nostalgia and defiance, showcasing vintage ads from the patriarchal mid-20th century. Slogans like "Save your marriage, iron properly" set the stage for a transformative runway experience. The perfect set for Dior to showcase a collection that serves as a poignant reminder of the essence of feminism, harkening back to its core principles. Read my Dior Spring-Summer review.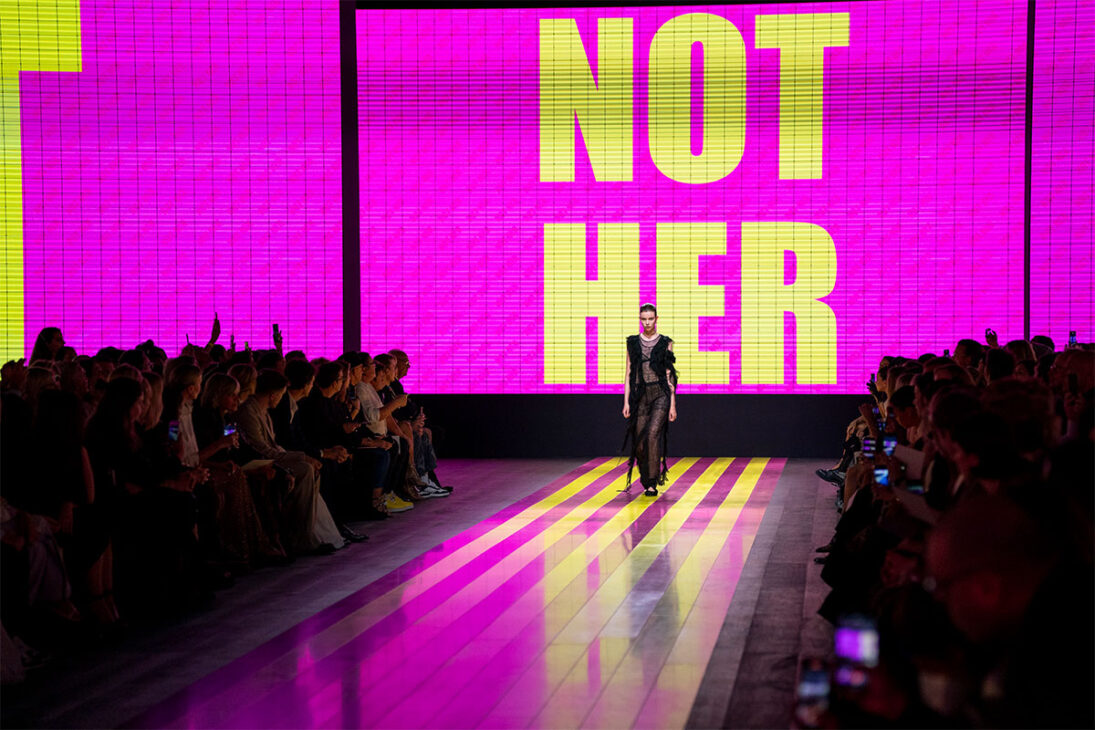 …and the viral moments?
What's the deal with the Kardashian clan this season? In Milan, Kylie Jenner arrived late for the Dolce & Gabbana show, causing a 47-minute delay in the show's start. In Paris, Kim Kardashian reportedly tested the patience of the formidable Anna Wintour at Victoria Beckham's Spring – Summer 2024 ready-to-wear show. Kim, the guest of honor at Beckham's show, arrived late, leading to a delayed start of the show. It was visibly irking the usually punctual Vogue Editor-in-Chief. As Kim took her seat next to Wintour, it was evident that Wintour was far from pleased, maintaining an icy demeanor and pointedly ignoring Kim. The show began nearly an hour late, leading Wintour to depart for another commitment before Victoria Beckham's final bow. Despite conflicting reports about their interactions, this fashion faux pas has become the talk of the town, with memes and videos proliferating across the internet. Lisa Armstrong, The Telegraph's Head of Fashion, left no room for ambiguity as she shared an Instagram video showcasing Cate Blanchett and Robert Downey Jr. in attendance at the event. Her caption, "Proper celebrities …who manage to be on time for fashion shows (along with Florence Pugh) unlike others I could mention but won't because this is a Kardashian-free zone. Whoops."
No Clubbing for Brooklyn and Nicola
Brooklyn Beckham (24) and his wife Nicola Peltz (28) were reportedly denied entry to a flashy Paris nightclub during Fashion Week. The couple, who wed last year, were met with firm security at popular celeb hotspot Raspoutine, who turned them away, according to a now-viral clip posted by @celebsinparis. After a brief back-and-forth with bouncers, Brooklyn was reportedly told that they ultimately couldn't go inside the club despite it being just after 2:30 a.m. — way before the nightclub's 5:30 a.m. closing time. Paris can be so cruel…
Photo by Aurore Marechal/ABACAPRESS.COM Credit: Abaca Press/Alamy Live News
Behold the A-Listers Gracing the Front Rows of Paris Spring – Summer 2024 Fashion Week
In the front row at Louis Vuitton, numerous celebrities were present, including Louis Vuitton Men's Creative Director Pharrell Williams, Jaden Smith, Serena Williams, and Zendaya. At Dior, the notable attendance of Ambassador Charlize Theron, Rachel Ziegler, Jennifer Ortega, and Robert Pattinson, among others, was observed. Alex Wek, Hailey Bieber, Zoë Kravitz, Kate Moss, Charlotte Gainsbourg, Jerry Hall with Georgia May Jagger, and Demi Moore made a spectacular appearance at the Eiffel Tower and secured their seats in the front row at Yves Saint Laurent. At The Row, Pamela Anderson and Kaia Gerber displayed their best minimalist ensembles. Celebrities such as Emilia Clarke, Penélope Cruz, and Usher were in attendance at Chanel's SS24 show. Valentino's front row welcomed esteemed guests such as Andrew Garfield, Florence Pugh, Leslie Mann, and Rosie Huntington-Whiteley. Robert Downey Jr. and Cate Blanchett were in a playful mood in the front row at Stella McCartney. The Hilton sisters, Paris and Nicky, were also among the A-listers attending Stella McCartney's show. Ashley Graham and Alexis Stone were spotted at the Balenciaga SS24 show, along with other celebrity guests. Jared Leto made a regular appearance at Givenchy, while rapper Tyga was also present. The iconic Cher arrived with her boyfriend, Alexander Edwards, who is 40 years her junior. Ah, nothing like true love…
And, of course, the pièce de résistance:
What would fashion week be without the Kardashians adding their signature "fashionably late" touch? Kendall Jenner graced the runway for Schiaparelli and Victoria Beckham and was spotted in the front row at THE ROW. Kylie Jenner was seen seated in the front row at Schiaparelli. Kris Jenner magically appears everywhere, from Loewe to Valentino to Lisa Rinna's dinner party at the laid-back Tekès restaurant. Kris Jenner has a way of making it all look effortlessly chic. She materializes out of thin air and disappears just as quickly.
For more Spring – Summer 2024 reviews click here
The article originally published in German on FACES.CH
Hero Image: ©Yves St. Laurent
fashionweek
PARIS
Paris Fashion Week
SS24