The Issey Miyake shows, and collections are always celebrated for their unique ability to bring a calm and peaceful escape in the midst of the hectic Fashion Week schedule.
Presented on Friday, September 29, at Césure in Paris, the Spring – Summer 2024 show & collection continues this cherished tradition. With a Zenful Runway Experience, Artistic Director Satoshi Kondo masterfully orchestrates an enchanting atmosphere featuring humanmade bird sounds and graceful, poetic dance performances.
Innovative Fabric Series
Issey Miyake's Spring – Summer 2024 collection is a testament to the brand's unwavering commitment to innovation. This season, a remarkable range of pioneering fabrics was unveiled, each possessing its distinct character.
"Ambiguous" used high-twist cotton yarn for garments with adaptable, fluid drapes that hugged the wearer's physique. "Twinning" evoked flag movements with feather-light, textured fabric. "Light Leak" featured captivating prints from exposed camera film. "Enveloping" blended Japanese washi paper and polyester for supple, original silhouettes. "Fixed in Time" presented structured yet comfortable pressed fabric. "Twisted" incorporated natural and stretched fibers for unique textures. "Shaped Membrane" offered exaggerated silhouettes with skin-like, stretchy textures. Each fabric added depth and versatility to the collection's aesthetic.
A Footwear Collaboration with New Balance
In addition to the innovative fabrics, Issey Miyake and New Balance collaborated to introduce the MT10O footwear collection. collaboration embraced the concept of barefoot mobility, perfectly complementing the physicality and sensuous design elements present in designer Satoshi Kondo's creations.
Issey Miyake's SS24 collection stands in a league of its own, seamlessly blending fantasy and reality, a masterful fusion of artistry and form.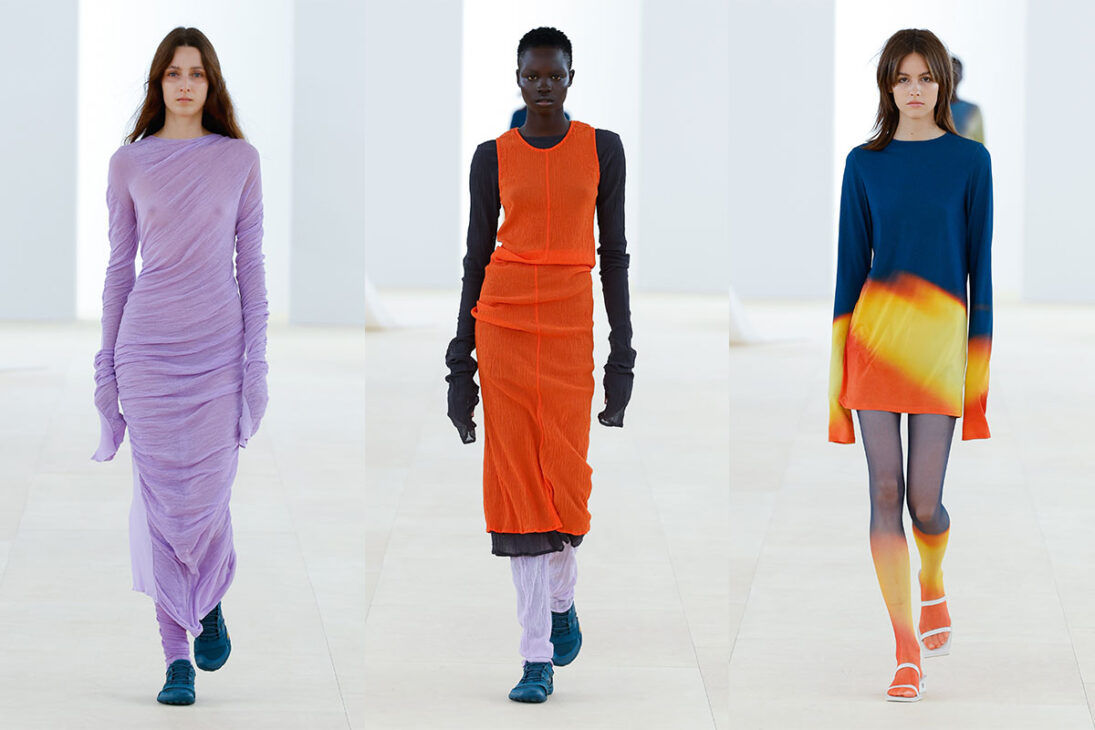 For more Spring – Summer 2024 reviews click here
The article originally published in German on FACES.CH
Photo Credits: Hero Image and Images: © Issey Miyake
fashionweek
Issey Miyake
PARIS
Paris Fashion Week