In the realm of fashion, certain moments etch themselves into our memories, and certain shows & collections leave an indelible mark on the industry. A prime example is Pierpaolo Piccioli's unforgettable fall/winter 2022 collection for Valentino. Piccioli collaborated with the Pantone Colour Institute to create an exclusive hue of pink: PINK PP. This mesmerizing shade of pink ruled the Valentino Runway from beginning to end; the show enveloped spectators in the enthralling world of this distinct pink hue. This surprising use of Pink by Piccioli for Valentino rejuvenated pink within the fashion universe and undoubtedly influenced the summer 2022's hot pink trend. We could also say that Pierpaolo Piccioli had some part in the resurgence of the love of all things pink and be credited with rolling out the metaphorical "pink carpet" for Barbiecore's grand entrance.
But what exactly is Barbiecore?
Barbiecore is a fashion trend rooted in nostalgia and aspiration, drawing inspiration from the iconic doll Barbie. With her all-American, Malibu-babe image, Barbie has long been a symbol of beauty standards, luxury, and the American dream. While also serving as a feminist icon, Barbie has embodied women's liberation and independence, albeit simultaneously contributing to discussions around unrealistic body standards. Barbiecore goes beyond simply wearing an all-pink ensemble. It encapsulates the attitude and aesthetic of Barbie's high-fashion and hyper-pink style. It harks back to the Y2K era, channeling the vibes of Paris Hilton and the cast of Mean Girls, who became known as "The Plastics." Barbiecore enthusiasts understand that emulating Barbie is not just about fashion; it's a lifestyle.
Barbie Movie Mania: Greta Gerwig's Film Fuels the Barbiecore Trend
The highly anticipated Barbie movie, directed by Greta Gerwig, featuring Margot Robbie as Barbie and Ryan Gosling as Ken, has ignited a whirlwind of excitement and rekindled the enthusiasm surrounding the Barbiecore trend. As we catch glimpses of Robbie and Gosling in their iconic roles through film stills, the anticipation for the movie only intensifies, further fueling the widespread embrace of the barbiecore aesthetic in all its magnificent shades of pink. The film's energetic appeal and the undeniable influence of Barbie's style have propelled the trend to new heights, firmly establishing pink as the reigning color for summer 2023.
The Barbie Movie Will Hit Cinemas on 9 July 2023
Rockin' in Pink: Summer 2023's Hottest Color Trend
This summer is all about embracing the power of pink. As we dive headfirst into the sunny season, pink takes center stage in a myriad of fabulous shades. Pantone's proclamation of Viva Magenta as the 2023 Color of the Year solidifies pink as the ultimate trendsetter for summer. Spring/Summer 2023 runways were a celebration of the many shades of pink as designers showcased the versatile and captivating hue in their collections. Moschino, known for its bold and playful aesthetic, mesmerized the audience with a burst of color and "fantastic plastic" dresses that exuded a sense of whimsy. Jeremy Scott's creative vision offered a refreshing escape from the ordinary, featuring zany inflatable elements that added a touch of fun to the runway. Meanwhile, Phillip Plein and Laquan Smith made a bold statement with their hot pink garments, demanding attention and making a vibrant impact. Giambattista Valli captivated with an array of elegant and sensual outfits, showcasing a mix of soft and feminine hues of pink that exuded sophistication & sensuality. Philosophy and Ermanno Scervino presented delicate and intricately detailed garments in soft pinks, epitomizing grace, and femininity. Nensi Dojaka, among other designers, embraced the wide spectrum of pink, showcasing a diverse range of styles and details in their garments. The Spring/Summer 2023 ready-to-wear collections truly demonstrated the enduring allure and versatility of pink.
Dressing the Town in Pink: A-Listers Join the Trend
This year, from red carpets to the iconic Met Gala and the recently concluded 2023 Cannes Film Festival, has seen celebrities wholeheartedly embracing the captivating allure of the vibrant world of pink. Influential stars have confidently adorned themselves in stunning pink ensembles, effortlessly embodying the spirit of this trend. Their fashion-forward choices have undeniably captivated attention at prestigious awards shows and high-profile fashion events. With every appearance, these style icons reaffirm the undeniable influence and statement-making power of pink in the world of fashion.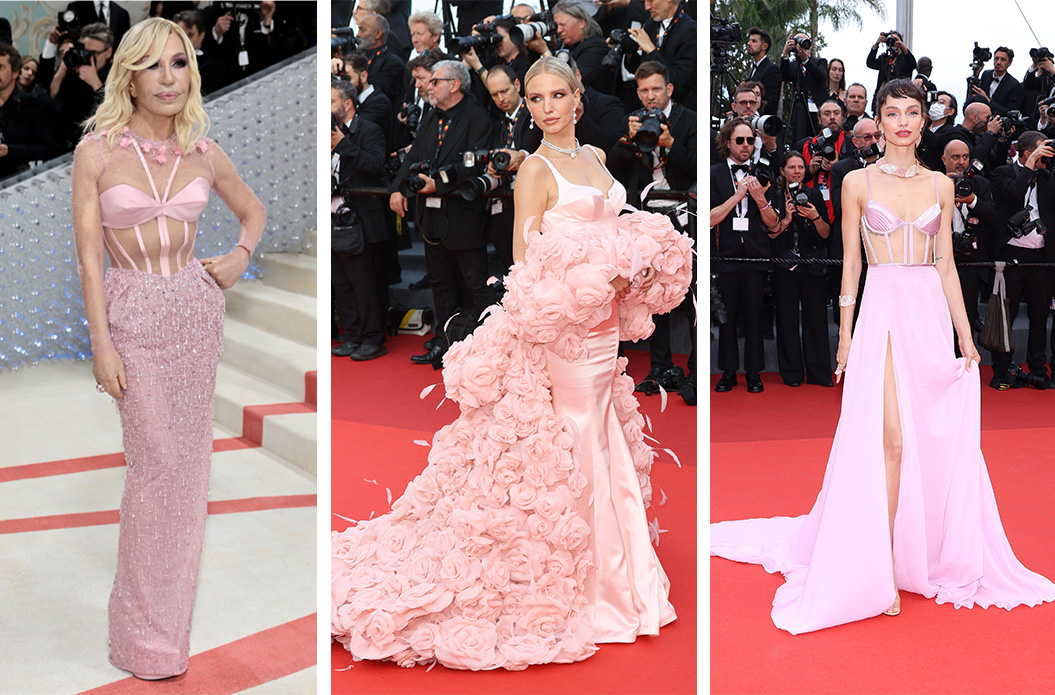 The fashion world is buzzing with the unstoppable trend of #Barbiecore, as the allure of pink takes center stage, captivating fashion enthusiasts, celebrities, and influencers and even going viral on TikTok worldwide. With its wide range of shades and inclusive charm, pink transcends boundaries, inviting everyone to revel in its enchanting embrace. So this summer, get ready to ignite your inner fabulousness and infuse your world with a burst of pink. Whether you love experimenting with trends or simply seeking playful flair, let your inner "fantastic plastic self" shine as you join the vibrant pink party.
Let's Go Party In Pink