The Dior Mens Spring Summer 2024 runway show in Paris on the 23rd of June was blazing hot, both outside and inside the venue. Guests packed into the show venue felt the heat in every sense of the word. But amidst the sweltering conditions, an ingenious solution emerged. A quirky sight caught your eye as you looked over the seated crowd. Initially meant for entry, the silver cardboard invites took on a new role as impromptu fans.
Guests comprising press, buyers, influencers, and celebrities gathered at the École Militaire to celebrate the 5th anniversary of Kim Jones as the creative director for Dior Menswear. The show showcased a balanced collection that captivated the audience, appealing to the modern Dior consumers while injecting a touch of French "style raffiné." With Jones's ability to dig into the fashion house's archives and bring forth its authentic DNA without distortion, the Spring Summer 2024 menswear collection proved to be a notable departure from the preppy trust fund aesthetic.
A Tribute to Dior's Heritage
Kim Jones possesses a rare talent for seamlessly connecting with the current cultural desires of luxury consumers. His designs are diverse and wearable, striking a fine balance between maintaining masculinity and infusing elements of French sophistication. While his collections steer clear of the heavy alpha male style, they still possess a distinct masculine identity, making them irresistible to both men and women.
Breaking Free from Preppy Stereotypes
For too long, the fashion world seemed stuck in a rut, with styles becoming repetitive and lacking originality. However, Dior's Mens Spring Summer 2024 collection shattered the mold of the preppy trust fund look that had dominated for so long. Jones successfully infused the lineup with a breath of fresh air, offering a unique blend of European elegance and sophistication. This collection is a refreshing departure from the boat shoe loafers, preppy blazers, and short chinos that had become all too predictable.
The Spring Summer 2024 menswear collection from Kim Jones was a testament to his ability to redefine the fashion landscape. It shattered expectations, offering a compelling alternative to the preppy trust fund aesthetic. With each carefully crafted garment, Jones invited the world to embrace a new era of menswear that exudes sophistication, elegance, and a distinct sense of self-expression.
A Collage of Inspirations
Kim Jones's fifth-anniversary collection and show at Dior pay tribute to the brand's legacy by combining the work of several of his predecessors. This collage of influences and pop iconography culminates in a mechanical garden of 'hommes fleurs' (flower men), embracing tradition and subversion simultaneously. Drawing inspiration from Yves Saint Laurent's silhouettes and Gianfranco Ferré's embroideries, the collection reinterprets and transforms these elements into a modern fashion narrative. With references to Marc Bohan's textures and Mr. Dior's use of tweed and jewels, Jones skillfully unites various eras and styles, infusing them with his own innovative touch.
The Spectacle of a Runway Show
Kim Jones is renowned for his ability to create captivating runway shows, and the Dior Men's Spring Summer 2024 presentation was no exception. Celebrating his fifth anniversary at the fashion house, Jones paid homage to the brand's focus on silhouette, shape, technique, and fabrication of the highest order. The show opened with all models rising from a trap door, standing still like flowers in a mechanical garden. While the show's grandeur was undeniable, the clothes remained the true stars of the event.
Tradition and Transformation in Harmony
The collection embodies a sense of crispness, playful modernity, practicality, and ease. It successfully combines formal and casual elements, transforming ordinary menswear items into extraordinary pieces through symbolic techniques that traverse time and styles at Dior. From relaxed masculine suiting to summer ensembles and sweeping coats, the influence of Yves Saint Laurent's tailoring shines through. Accessories also play a vital role, with heavy-soled loafers and slides drawing inspiration from the iconic Lady Dior Bag, while a variety of bags showcase different shapes, colors, and textures, from fluorescent saddles to utilitarian tweed rucksacks.
As the show came to an end, the audience erupted in applause, recognizing the transformative power of Jones's vision. The Dior Mens Spring Summer 2024 Ready-to-Wear Collection has proven that fashion can break free from conventions and create a new narrative. It was a defining moment, a milestone in Jones's journey as the creative director for Dior Menswear.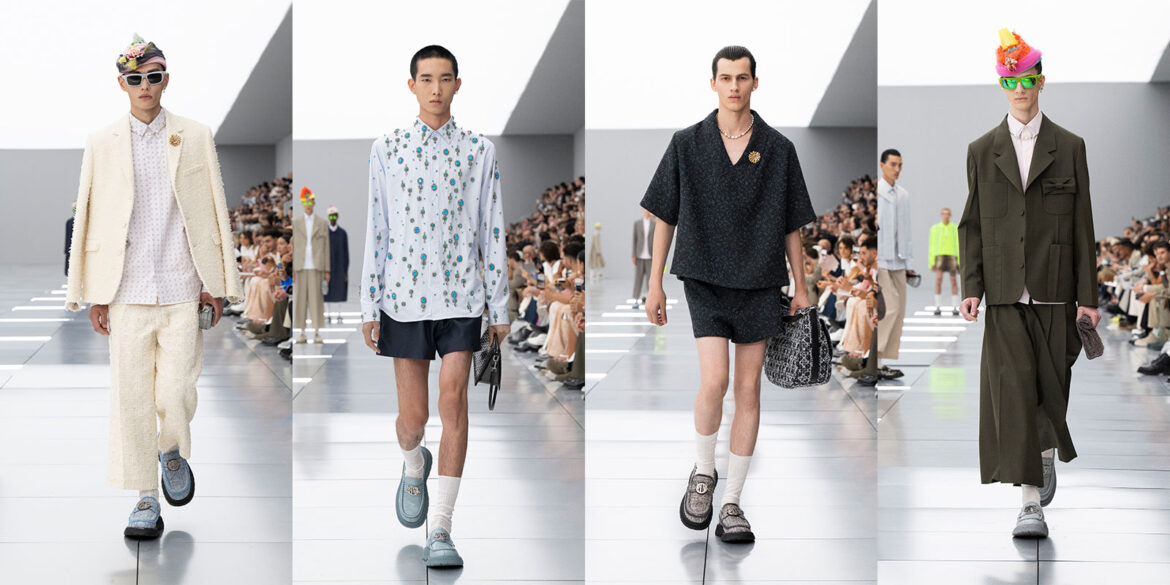 Here is a Recap of the Women's Fall – Winter 2023/ Pret – a – Porter Collection
Original Article FACES.CH
Dior
Fashion
fashionweek
Mensfashoionweek