Pharrell Williams' Debut: A Captivating Fusion of Joy and Style.
The Louis Vuitton Men's Spring-Summer 2024 Fashion Show & ready-to-wear collection instantly sparks happy emotions and brings to mind: Minecraft and Pharrell Williams' iconic song "Happy." The show exuded an undeniable sense of happiness, weaving together fashion and emotions truly captivatingly.
A Momentous Occasion with Cultural Significance
Since the news broke in February 2023 about Pharrell Williams assuming the role of creative director for Louis Vuitton's menswear, anticipation has been mounting. The show and collection that followed lived up to the heightened expectations, leaving no room for disappointment.
Held on the historic Pont Neuf, the oldest bridge in Paris, the show served as a metaphorical connection between the city and Williams' home state of Virginia. This location symbolized the evolution of Williams' journey. By blending American varsity jackets with the refined craftsmanship of Parisian ateliers, the collection showcased the transformative power of fashion.
Star-Studded Glamour
The event unsurprisingly drew A-list celebrities to its front row. Beyoncé, Jay-Z, Rihanna, A$AP Rocky, Kim Kardashian, and Jared Leto were among the dazzling attendees. Louis Vuitton global brand ambassadors Zendaya and Jackson Wang also graced the event, alongside other notable figures such as Megan Thee Stallion, Offset, Tyler the Creator, LeBron James, Lewis Hamilton, and Willow and Jaden Smith. Undoubtedly, it was the hottest ticket in town.
Empowering Change and Inspiring Possibilities
Pharrell Williams acknowledged the profound impact of his position, recognizing the message it sends to young individuals facing similar challenges. He emphasized the importance of representation and diversity, which is reshaping the fashion industry. Williams feels honored to be part of this transformative change, altering narratives and inspiring those who may have once felt limited by their circumstances.
Appealing to a diverse Generation demographic
The timing of this collection is undeniably fitting, as it resonates with the generation of "Minecraft addicts" who now form a significant market demographic. While it caters to Gen Z, it also captivates Gen X and millennials. Those "older Dudes" with a fondness for camo will find these pieces particularly enticing, offering a fresh take on their beloved camo prints.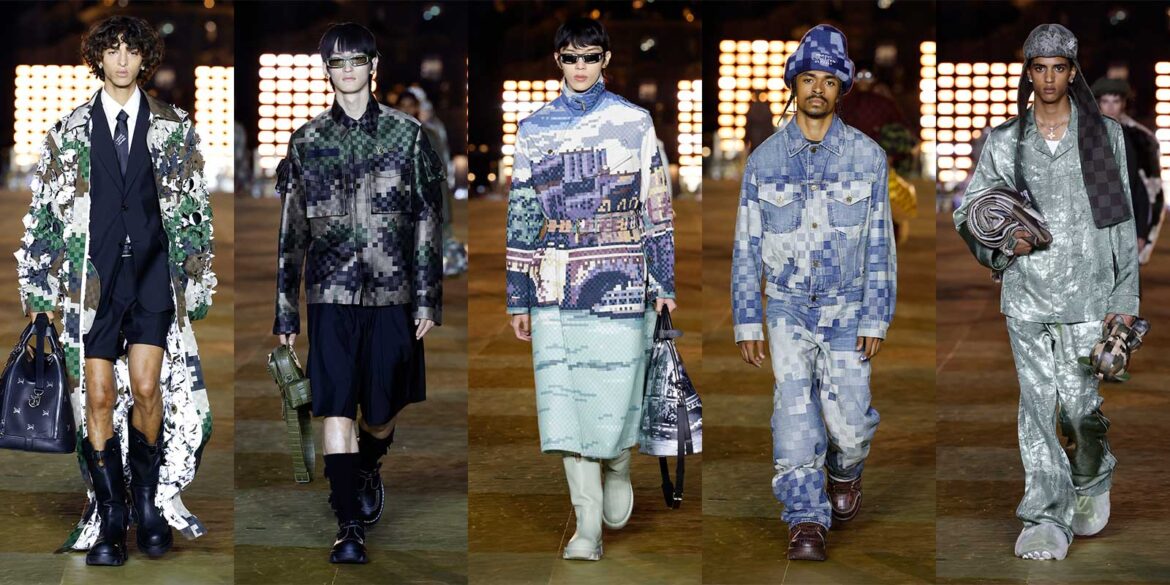 The Guiding Light of Opportunity and Unity
At the heart of this collection lies the theme of the sun, symbolizing opportunity, responsibility, and enhancement. Williams envisioned the sun as a universal source of life, energizing and unifying people across cultures and beliefs. Throughout the collection, the profound impact of the sun was evident, guiding individuals to embrace knowledge, improve themselves, and spread love to their fellow humans.
Pharrell's Bold Vision: A Modern Twist on Louis Vuitton's Timeless Style
Incorporating the brand's signature leathers and designs into modern and futuristic looks, Pharrell Williams brought a big and bold approach to his debut collection. His visionary perspective breathed new life into the heritage brand while staying true to its DNA. The reimagined Damier prints took on a futuristic vibe, featuring pixelated graphic designs and vibrant, oversized styles. What made this collection truly exceptional was its practicality, luxury, and above all, wearability. Each piece was carefully crafted to be effortlessly stylish in everyday life, a testament to Louis Vuitton's commitment to creating fashion that resonates with the modern individual.
Article originally published on FACES.CH
Here is a Recap of the Women's Fall – Winter 2023/ Pret – a – Porter Collection